Beyond The Bus Book Launch Fundraiser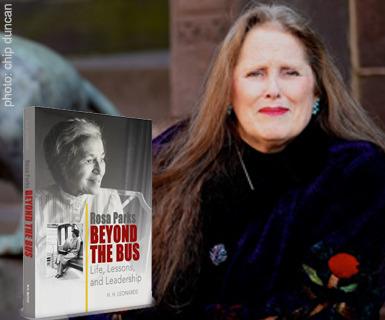 VIP Green Room Ticket: $100/per
Attend book launch party and private meet & greet with the author and special guests. Includes a signed book.
TICKET OPTION 2
General Admission Ticket: $50/per
Attend book launch party
Join Author HH Leonards and special guests for champagne and desserts as we celebrate her new book Rosa Parks Beyond the Bus Life, Lessons, and Leadership
Funds raised will help O Museum continue our important work addressing human rights, social justice and disparities. O Museum is in critical need of funding to support our education and self-empowerment programs that drive civic responsibility and heal the soul through music and storytelling.
ABOUT THE AUTHOR
H.H. Leonards is a wife, mother of three, founder of O Museum in The Mansion, and co-founder of 51StepsToFreedom.org located in DC. Mrs. Rosa Parks called The Mansion her home-away-from-home for over a decade.
Mrs. Parks' message is as urgent today as it was in 1955.
Beyond the Bus is about having faith in yourself to do the hard work to change hearts and minds and to have the courage to fight for the rights of all others: Black, White, religious, non-religious, men, women, children, gay, transgender.
She believed the laws can change but if you don't change peoples hearts nothing changes. Love is all that matters.
ABOUT THE PUBLISHER
R.H. Boyd (founded, 1896), the oldest Black owned publishing house in America
—————————————
Entire balance is paid in full when you place your reservation.