Visit
Proceeds from tours, events & exhibits go to support our heroes & artist-in-residence program.
Tours
(on-line reservations required)
We provide a forum for artists to go national and global. Devoid of velvet ropes & glass borders, visitors are
able to immerse themselves in the creative process & experience the exhibits up close and personal.
Hours: Tour appointments (based on availability) daily 11 a.m. - 3 p.m. — Close 5 p.m.
Children under 17 must be accompanied by an adult at all times. Bring a shopping bag. Everything is for sale.
Food & Beverage Tours
(on-line reservations required)
Hours: See individual tours. Close 5pm. Tours based on availability. Children under 16 must be accompanied by an adult at all times.
Proceeds from tours, events & exhibits go to support our heroes & artist-in-residence program.
These exhibits are included in all tours.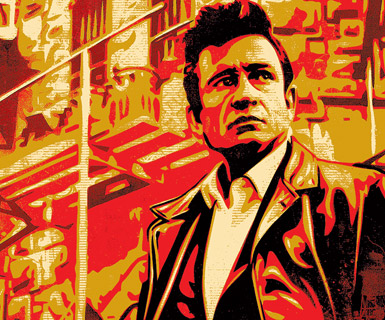 American Civics
Shepard Fairey & Jim Marshall
American Civics
The first-ever collaboration between acclaimed contemporary artist Shepard Fairey and the estate of legendary photographer Jim Marshall. In it, Fairey interprets Marshall's iconic photography from the 1960's, including images of Johnny Cash, Cesar Chavez, and Fannie Lee Chaney, with five new works, vividly depicting the humanity behind some of our country's enduring social justice issues: Voting Rights, Mass Incarceration, Workers' Rights, Gun Culture, and Two Americas. The art of American Civics gives a face to these issues to cultivate dialogue and encourage vigorous solutions to problems that have divided the country and eroded the core of the American ideals.
Learn more

Generously donated by Michael Jensen, President/Founder Jensen Communications Inc. Jensen Communications, Inc. is a media, marketing and management firm specializing in public relations serving a diverse range of clients in entertainment, business, cause-related politics and the arts.
Learn more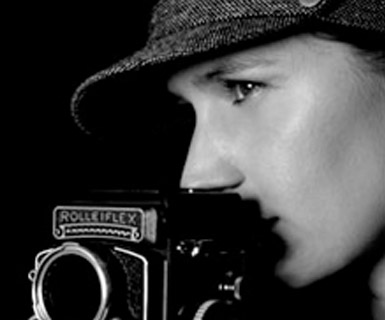 Rythmic Rebels
Sandrine Lee
Rythmic Rebels
French born photographer Sandrine Lee has lived, studied and worked in NYC for over a decade. Via her husband, Will Lee, she has entered the music world and made it her main photographic playground.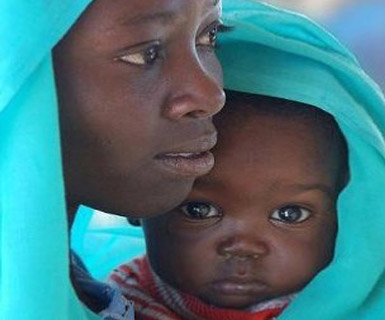 Faces of Hope
Chip Duncan
Faces of Hope
Filmmaker, author, photographer and recipient of more than 100 national and international awards for his work, Chip's images appear in the book Enough To Go Around - Searching for Hope in Afghanistan, Pakistan & Darfur. An exhibition of his images premiers at the 2011 World Peace Festival and this fall at O Street Museum Foundation.

This event benefits Relief International and
O Street Museum Foundation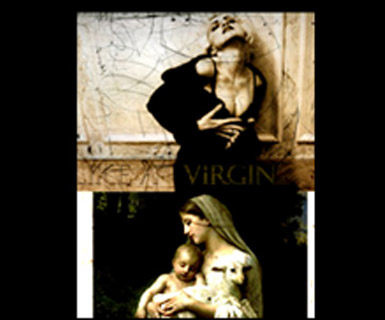 First Ladies of Rock
Gerald Johnson
First Ladies of Rock
Gerald Johnson's art can be found in the National Gallery of Art, The White House, and the Treasury Department, as well as over three hundred corporate collections in America, Europe and China.

He was born in Pittsburgh Pennsylvania and now lives in the DC area. He earned his fine arts degree and completed his graduate studies in printmaking and painting at Carnegie-Mellon University and the University of North Carolina.

"The O Museum has challenged my creativity and championed my art. Every artist's dream is to find a receptive audience for their work. Twenty-five years ago, carrying 10 tiny collages into this mysterious house on O Street I found that audience; always saying "Do what is in your heart."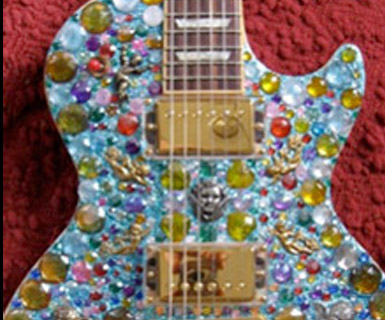 Crown Jewels of Music
Nina Miller
Crown Jewels of Music
Nina Miller loves all animals, some people, music, books, sparkly things, and all things vintage. Perpetually getting lost, but with a strong inner-compass, she resides in Nashville with her little monster, Oliver.
Founded in 2002, The Gibson Foundation is committed to making the world a better place for children by creating, developing and supporting programs and other non-profit organization in their efforts to advance education, music and the arts, the environment and health and welfare causes. Nina is the Executive Director of The Gibson Foundation.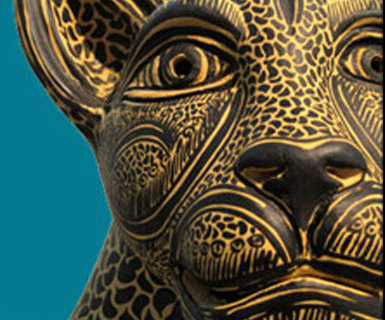 Nomads
Indigenous Mexican Art & Culture
Nomads
Nomad Indigenous Mexican Art & Culture Exhibit

This wonderous collection showcases mexican contemporary indigenous arts & crafts, created by world renowned artists, and has exhibited in Montreal, Boston and New York. The D.C. exhibit is supported by the Mexican Cultural Institute of Washington DC.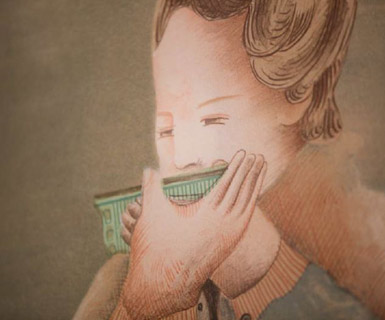 The Little Prince
Elie Abrahami
photo: cade martin
The Little Prince
Born one of 14 children in Persia, 1948, Elie's religious affiliation prohibited him from painting, learning to read, and write. It wasn't until he was in the Israeli army, that he became an artist.
Despite his family disowning him for becoming an artist, he sent 80% of his earnings to them, until their death.
Abrahami's delicate watercolors and oil paintings, combining eastern and western traditions, have been exhibited in various galleries throughout the world and acquired by some of the most important collections in the world, including the Metropolitan Museum, the Guggenheim Museum and the British Museum. He resides in Paris and his work is in major museum collections, globally.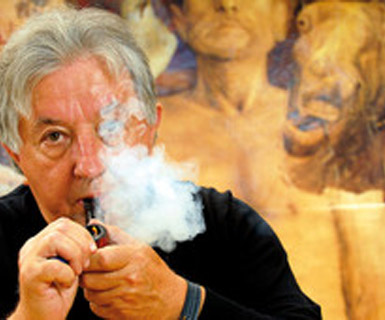 Ottoman Magic
Mersad Berber
Ottoman Magic
Mersad Berber is one of the greatest and most distinctive Bosnian painters and graphic artists. His inspiration is derived from Bosnia, its Ottoman past, and its people. An honorary member of the Russian Academy of Arts, he has received approximately 50 awards and he has had exhibits in cities all over the world, from London and Madrid, New York to Moscow, Jakarta and New Delhi.
Experts consider him to be one of the greatest post-Classic artists in the world. His most significant projects were "Chronicles of Sarajevo", "A Trip to Skender Vakuf", "Srebrenica", "A Homage to Vlaho Bukovac", and "Ottoman Chronicles" among others.
Membership
Immerse yourself in the creative process when you become a member of the O Street Museum. Explore the ever-changing architecture, themed rooms and secret doors. Listen to one of the largest private rock music collections in the area. View up-close-and-personal more than 1500 pieces of art, photographs and sculpture by artist like Fredrick Hart, Gerald Johnson, R.E. Gorman, Frederick Remington, Chip Duncan, Mersad Berber and Elie Abrahami. Marvel more than 60 signed Gibson guitars from rock icons like Bob Dylan, The Boss, U2, Rolling Stones, Les Paul and more. Delight in rare memorabilia including letters from Mrs. Rosa Parks. J.Edgar Hoover, Abraham Lincoln and John Lennon, a revolver from Pirates of the Caribbean, signed movie scripts and more. Browse more than 20,000 books including ones authored on-site and rare first editions. The list of things that will inspire your imagination is endless at the O Street Museum - it is always new, always changing, always growing - and so will you.
When you become a member you will be providing the support necessary to share and preserve our evolving collections.
NOTE: All benefits are effective for one year.
Individual
$125.00/year - Membership benefits listed below for one person.
Glass of champagne and one free visit to The Museum
20% off tours (food tours excluded)
10% discount on museum purchases every time you visit
Advance notice & purchase opportunities for intimate concerts & author series
Join as Individual Renew Individual
Family/Dual
$250.00 - Membership benefits listed below for two adults
All the Individual benefits plus:
10% discount on Mansion food tours
1 private docent-led tour for 2
Join as Family/Duo Renew Family/Duo
Angel
$750.00 - Membership benefits listed below for one person
All the Individual benefits plus:
10% discount on food tours
2 tickets to the SRO Concert of your choice
1 private docent-led tour for 4
2 seats at annual Founder's Dinner
Winged O Society
Members of the Winged O Society are among the museum's leading supporters donating not just funds but their valuable time, providing the foundation necessary to share, build, and preserve our programs. Their support goes directly to our programs including Artists-in-Residence, Jammin', OKids, SRO Concerts, and our evolving collections.
Winged O members receive all of the benefits of membership listed above as well as the following:
Rising Stars
$5,000
Invitations to unique events including private amnesia dinners, concerts, and private docent led tours
4 tickets to the SRO Concert of your choice
4 seats at annual Founder's Dinner
Recognition links and logos on our website, and in our communications vehicles
Join as Rising Star Renew Rising Star
All-Stars
$10,000
Invitations to unique events including private amnesia dinners, concerts, and private docent led tours
6 tickets to the concert or speaker of your choice
6 seats at annual Founder's Dinner
Private Penthouse Tour for 6
Recognition links and logos on our website, and in our communications vehicles
Join as All-Star Renew All-Star
Rock Stars
$25,000 - and beyond
Invitations to unique events including private amnesia dinners, concerts, and private docent led tours
8 All-Access Passes & front row seats to every concert & speaker
8 seats at annual Founder's Dinner
Private Penthouse Tour for 8
Private art consultation with The Museum's Founder
Naming opportunity at The Museum
Recognition links and logos on our website, and in our communications vehicles