Address
O Street Museum
2020 O Street, N.W., Washington, D.C. 20036
(in the middle of 20th & 21st Streets)
202-496-2070

Public Transportation
Conveniently located less than a block from embassy row and the Dupont Circle Metro Red Line - South Exit - we recommend you go green and use public transportation when you visit.
Take the Metro Red Line to Dupont Circle
Take the Dupont Circle/South exit
At the top of the escalator turn right and carefully cross 19th Street, NW
Walk between the two buildings in front of you and then carefully cross New Hampshire Avenue, NW
Walk left and you'll see signage for 20th & O Streets, NW
Carefully cross 20th Street and come on down O Street to 2020 on your left. Welcome
If you require the use of an elevator:
Take the Metro Red Line to Dupont Circle
Take the north - Q st. exit
When you get to st. level turn left towards 20th st.
Turn left on 20th st.
Turn right on O st. - we are half a block down on the left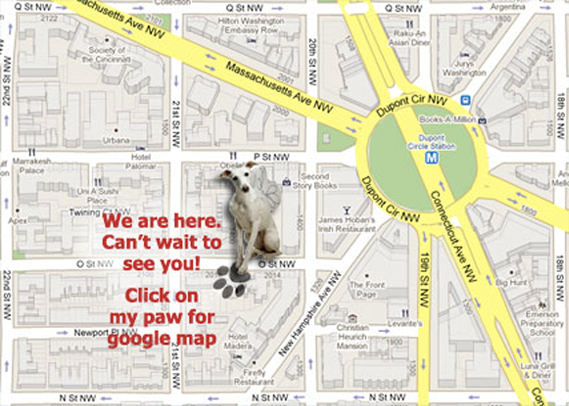 Driving
Please visit the links below, put in the address you are coming from, and print out directions to take with you when you visit. Our staff and volunteers use public transportation and will be unable to assist you by phone if you get lost.
Parking
Valet parking is available for $20/car for an event and $30 overnight (plus applicable taxes). Please indicate on your form if you plan to use our valet services when you visit.
On-street parking near O Street Museum Foundation is limited. The closest public parking facility is 3 blocks away. We strongly recommend public transportation - or that you use our valet services.